Collaborate with us to invoke and fully manifest Śrīla Prabhupāda's presence

Main Page
From Vanipedia

The encyclopedia of His Divine Grace A.C. Bhaktivedanta Swami Prabhupāda's teachings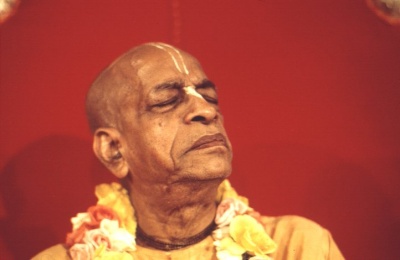 Vanipedia is a dynamic encyclopedia of Śrīla Prabhupāda's words (vani). In Vanipedia we explore and comprehensively compile Śrīla Prabhupāda's teachings from various angles of vision and present them in accessible and easily understandable ways. We are building an unparalleled repository for the benefit of all that will offer a continual, worldwide platform for Śrīla Prabhupāda to preach and teach the science of Kṛṣṇa consciousness to the world.
There are seven divisions, or petals, in the whole Vanipedia project. You can see them listed under all Vanipedia petals to the left. At the moment there are five petals that are filled with content: Vanisource, where you can read the archived collection of Śrīla Prabhupāda's books, lectures, conversations and letters, Vanimedia, where you may listen and watch many audio and video clips of Śrīla Prabhupāda's lectures and conversations. In addition, we are now beginning to create articles in the Vanipedia petal (the site where you are now) and recently we started the Vaniversity petal with some crosswords.
In Vaniquotes, you can experience the thematic mapping of Śrīla Prabhupāda's teachings. We have created a very easy compiling process to populate the Vaniquotes petal. Compiling and studying in Vaniquotes is a penetrating way to absorb oneself in Śrīla Prabhupāda's teachings. Each Vaniquotes page contains one or more quotes and is organized under a system of categories based either on a theme, personality or on a key word or phrase. As Vaniquotes grows, content for the other petals - in the form of written articles, reference guides, and other educational material will naturally develop.
The Vanipedia project is a global collaborative endeavor that is succeeding due to the many devotees that have come forward to participate. An introduction to Vanipedia is here. Below you can check out our ongoing projects. If you have a question, want to be involved, or just want to say hi, then please contact us.
Vanipedia Articles
The Vanipedia petal is now beginning to unfold. Glancing through the first two completed thematic articles - Animal-Killing in Human Society and Buddha: A Vaisnava Perspective - one can experience the high standard of devotional research within Vanipedia, complete with easily accessed source notes and extensive references for additional reading and study in Vaniquotes. Just imagine the power of delivery to have 500 to 1,000 similar thematic multilingual articles, all interlinked with each other and all accessible in one place, under one platform! We also have some introductory articles that bring to light the wealth of content that Śrīla Prabhupāda delivers to us in Vaniquotes.
| Completed Introductory Articles to Vaniquotes | Completed Thematic Articles |
| --- | --- |
| | |
Vanipedia Projects
Building a Time-line of Śrīla Prabhupāda's Life
We are documenting the major events in Śrīla Prabhupāda's life and also offering a chronological order of all recorded media of Śrīla Prabhupāda's vani. Once completed, this time-line will provide an authoritative documentation of all his existing teachings arranged in order of occurrence. A major task indeed and we invite devotees to assist with it.
Articles in Development
Drawing from Vaniquotes and Vanisource there are many articles that can be written. We invite writers to join this project. Here is a list of some potential Vanipedia articles.:
Vanimedia Projects
Uniting Śrīla Prabhupāda's Multi-lingual Family
Prabhupāda Speaks Around the World
In Vaniquotes you can now listen while reading Śrīla Prabhupāda's lectures, conversations, interviews and morning walks - feel his presence, feel his mood. To date there are over 2200 pages with clips available and we are aiming for 5000 by the end of 2014.
Completing an Audio Fidelity Check of Lecture and Conversation Transcriptions
We are inviting volunteers to attentively listen to Śrīla Prabhupāda and, while reading, to check the transcriptions for accuracy. This project is in its beginning stages, but if it interests you please contact us
Vanisource Projects
Adding Scans of Śrīla Prabhupāda's Letters
We are inviting volunteers to read, verify and correct the Vanisource transcriptions for fidelity against the original scans. Please contact us if you would like to help.
Adding Audio to Lecture and Conversation Transcriptions
The 1977 audio has been uploaded - with a total of 236.25 hours of audio in 385 audio files As the Bhaktivedanta Archives release the other years this project can be completed. The Archives are projecting a release of all the 1976 audio before the end of 2013, and hopefully we will upload them in Vanisource by Gaura Purnima 2014.
Creating New Categories for Vanisource
Letters sorted by person

We are indexing letters in order to access those written to each person.
Lectures sorted by verse

As well as presenting lectures by date and location they will also be listed by volume and verse.
Adding Śrīla Prabhupāda's Original (1962-1965) Śrīmad-Bhāgavatam to Vanisource (processing)
Adding Śrīla Prabhupāda's Bhagavad-gītā As It Is (1968) Collier-Macmillan Abridged Edition (coming soon)
Content to be Added Soon
Letters From Śrīla Prabhupāda's Secretaries and ISKCON Officers
Essays and Articles (pre-1967)
Śrīla Prabhupāda's Diaries
BTGs 1944 - 1960
Vaniversity Projects
Crossword Puzzles
Mindmap
In Vanischool we have developed a Mindmap which is a genealogical tree of the birth and descendants of the personalities from the Śrīmad-Bhāgavatam. Distinctive personalities link into their Vaniquotes category.
| | | |
| --- | --- | --- |
| Vaniseva - serving together we create our future | | |
Other resources
hare kṛṣṇa hare kṛṣṇa - kṛṣṇa kṛṣṇa hare hare - hare rāma hare rāma - rāma rāma hare hare
All material by His Divine Grace A.C. Bhaktivedanta Swami Prabhupāda copyright © The Bhaktivedanta Book Trust
Images copyright © The Bhaktivedanta Book Trust, and The Bhaktivedanta Book Trust International, Inc.
Compilation copyright © Bhaktivedanta Library Services a.s.b.l.