SK/BG 10.10
From Vanipedia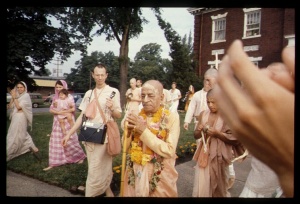 VERŠ 10
तेषां सततयुक्तानां भजतां प्रीतिपूर्वकम् ।
ददामि बुद्धियोगं तं येन मामुपयान्ति ते ॥१०॥
teṣāṁ satata-yuktānāṁ
bhajatāṁ prīti-pūrvakam
dadāmi buddhi-yogaṁ taṁ
yena mām upayānti te
SYNONYMÁ
teṣām — tým; satata-yuktānām — neustále zamestnaní; bhajatām — v oddanej službe; prīti-pūrvakam — v láskyplnej extáze; dadāmi — dám; buddhi-yogam — skutočnú inteligenciu; tam — to; yena — ktorú; mām — Mňa; upayānti — prídu; te — oni.
PREKLAD
Tým, ktorý sú Mi neustále oddaní a s láskou Ma uctievajú, dávam poznanie, s pomocou ktorého ku Mne dospejú.
VÝZNAM
Slová buddhi-yogam majú v tomto verši veľký význam. Možno si spomenieme, ako v druhej kapitole poučoval Kṛṣṇa Arjunu o rôznych veciach a povedal mu, že by ho chcel poučiť o buddhi-yoge. Čo je buddhi-yoga, je vysvetlené v tomto verši. Samotná buddhi-yoga je činnosť konaná vo vedomí Kṛṣṇu; to je najvyššia inteligencia. Budhi znamená inteligencia a yoga mystické činy alebo mystické povýšenie. Keď sa človek snaží vrátiť domov, späť k Bohu, prostredníctvom vedomia Kṛṣṇu a oddanej služby, potom sa jeho konanie nazýva buddhi-yoga. Je to, inými slovami, spôsob, pomocou ktorého sa človek vymaní z pút hmotného sveta. Najvyšším cieľom pokroku je Kṛṣṇa. L̍udia to nevedia, a preto je dôležité, aby sa stýkali s oddanými a s pravým duchovným učiteľom. Človek môže poznať, že Kṛṣṇa je cieľ, a keď si tento cieľ stanoví, jeho cesta k Nemu bude pomaly ale iste zavŕšená a dosiahne Absolútny cieľ.
O človeku, ktorý pozná zmysel života, ale je pripútaný k výsledkom svojej práce, sa hovorí, že vykonáva karma-yogu. Keď vie, že cieľom je Kṛṣṇa, no pritom nachádza potešenie v špekulovaní, pomocou ktorého chce pochopiť Kṛṣṇu, vykonáva jñāna-yogu. Keď pozná cieľ a hľadá Kṛṣṇu pomocou oddanej služby, je zamestnaný v bhakti-yoge alebo buddhi-yoge, tzn. v dokonalej yoge a v najvyššom a najdokonalejšom životnom štádiu.
Niekto môže mať pravého duchovného učiteľa a môže byť členom duchovného hnutia. Ak však nie je dostatočne inteligentný na to, aby robil pokroky, Kṛṣṇa ho zvnútra osobne poučí, aby k Nemu mohol nakoniec dospieť. Je však potrebné, aby na Kṛṣṇu neustále myslel a s láskou a oddanosťou Mu všemožne slúžil. Každý by mal vykonávať nejakú prácu pre Kṛṣṇu, a mal by ju vykonávať s láskou. Ak oddaný nie je dostatočne inteligentný na to, aby robil pokroky na ceste k sebarealizácii, ale je úprimný a vykonáva svoju službu s láskou a oddanosťou, Pán mu dá príležitosť, aby urobil pokrok a nakoniec sa k Nemu vrátil.